Florida Man decide to pull a "Superbad" with a fake McLovin license plate. As McLovin said in the movie, "Chicka chicka yeah! Fake ID, fake ID." The fake plate wouldn't have gotten the Florida Man into too much trouble alone.  Unfortunately he decided to go on a high speed chase through two counties, involving a Police Department, Sheriff's Office, and the Florida Highway Patrol.
According to the NY Post, 30-year-old Jesse Rivera, from Plant City, was seen on a red motorcycle with a fake "MCLOVIN" license plates at about 12:15 am going around 110 mph through a 45-mph zone.  A trooper from the Highway Patrol pulled up behind Rivera and turned on their patrol lights and siren.  The Florida Man turned to look at the trooper, then decided to take off…a common story for Florida Man.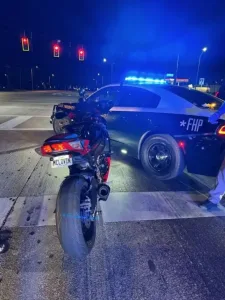 The trooper turned off his lights and watched the motorcycle from a distance.  He observed as both the St Petersburg Police and  Pinellas County Sheriff tried to pull over the Florida Man with no luck. The motorcycle then went over the Gandy Bridge, from St Petersburg into South Tampa.  After a few turns through the neighborhood, the Florida Man came to a stop at an intersection.
After missing the gear kick on his bike, the engine stopped.  The trooper was able to jump out the patrol car and grab the Florida Man.  He pulled him off so quickly the motorcycle fell on both trooper and Rivera, pinning his foot under the bike.  An EMS was called and he was treated for a broken foot.
Rivera was arrested and charged for fleeing to elude a law enforcement officer at a high speed. He was booked at the Hillsborough County Jail.